What a 360-Degree, Direct-to-Consumer Strategy Looks like in 2021
Designed for retail leaders and lovers alike, Retail Refined explores the in-store technology of the future, challenges the industry's preconceived notions, and brings together retail's biggest names to understand the brand strategies that will define the next decade in retail.
If there is anything recent events have taught us, it's that being adaptable is a key trait in life and in business. To gain insight into the business side of things, Melissa Gonzalez, Host, Retail Refined sat down with Adam Gam, US Chief Marketing Officer for Perfect Corp. to discuss the importance of adapting and embracing a 360 degree direct to consumer strategy.
What does Gam think is needed to make this strategy successful? Gam explained that consumers are spending more time online and are shopping more online. He feels that they have a big opportunity to capture those users' needs by having a strong and complete service and direct to consumer (D2C) opportunities. "As the user's behavior changes, you know, due to COVID and all the lockdowns we've seen in 2020, we're also seeing user demand shifting to new needs. And once consumers experience the benefits of digital technology, there's no way for them to really go back to the old norm," Gam said. He explained that they're really seeing that e-commerce and "brand.com" are fundamental pieces of a complete D2C strategy.
In regards to beauty tech — which is Gam's area of expertise as the US Chief Marketing Officer for Perfect Corp. — Gam noted that beauty tech can really benefit from D2C strategies. "Especially the beauty tech that Perfect Corp. provides can play a very important part in enriching the web and e-commerce user experiences," Gam said.
For more insight into D2C strategy, adapting during COVID-19, and the beauty industry, don't forget to check out the latest episode of Retail Refined!

Latest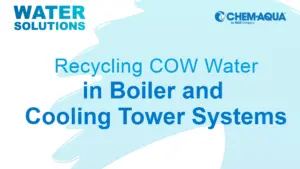 December 7, 2023
For the latest episode of ChemAqua's Water Solutions podcast, the focus was on an innovative approach to water conservation in the dairy industry. The show examined the potential of reusing Condensate of Whey (COW) water, a byproduct of dairy processing, and highlighted some of its economic and environmental benefits. Hosted by Dani Waddell, the informative […]
Read More